When you are in need of portable toilets for a party, special event or construction site there are two things that you should always count on. A commitment to service and cleanliness. Crockett Septic provides portable toilets and hand washing stations to some of Central Wisconsin's largest events, weddings, sports facilities and construction job sites. We take pride in delivering our units on time with regular cleaning and maintenance schedules to insure that our customers are well taken care of. With over 600 Portable toilets available for a variety of functions.
Under normal conditions most people will use sanitation facilities once every four hours. Take into consideration that the consumption of food, liquids, beer and other alcoholic beverages will increase usage by 20%. You can use the chart below as a guide and if you have more questions just give us a call at 715-712-3456 and we can help you determine the proper amount of portable toilets and hand washing stations needed for your event or job site.
1. Determine how many hours the event will last, if it is multiple days use the longest day.
2. Determine how many people will attend, if there are multiple days determine the peak day.
3. Use the chart to calculate the number of portable restrooms needed for adequate sanitation conditions
4. Adequate Washing stations should always be provided with restrooms in all food service areas.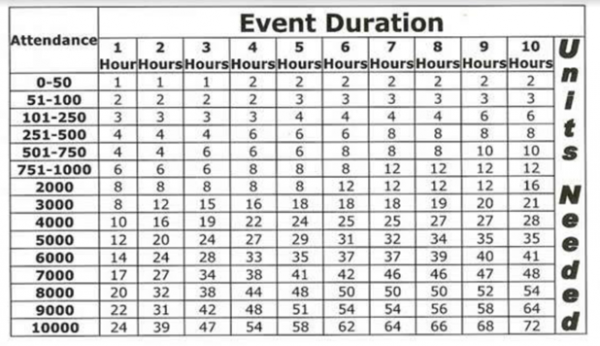 On a job site, the minimum number of restrooms are typically based on your volume of employees that will be on location. Remember that any food service sites at area such as carnivals, festivals and fairs should always have adequate hand washing stations for proper sanitation.